Most Popular Color Curtains for Kids Room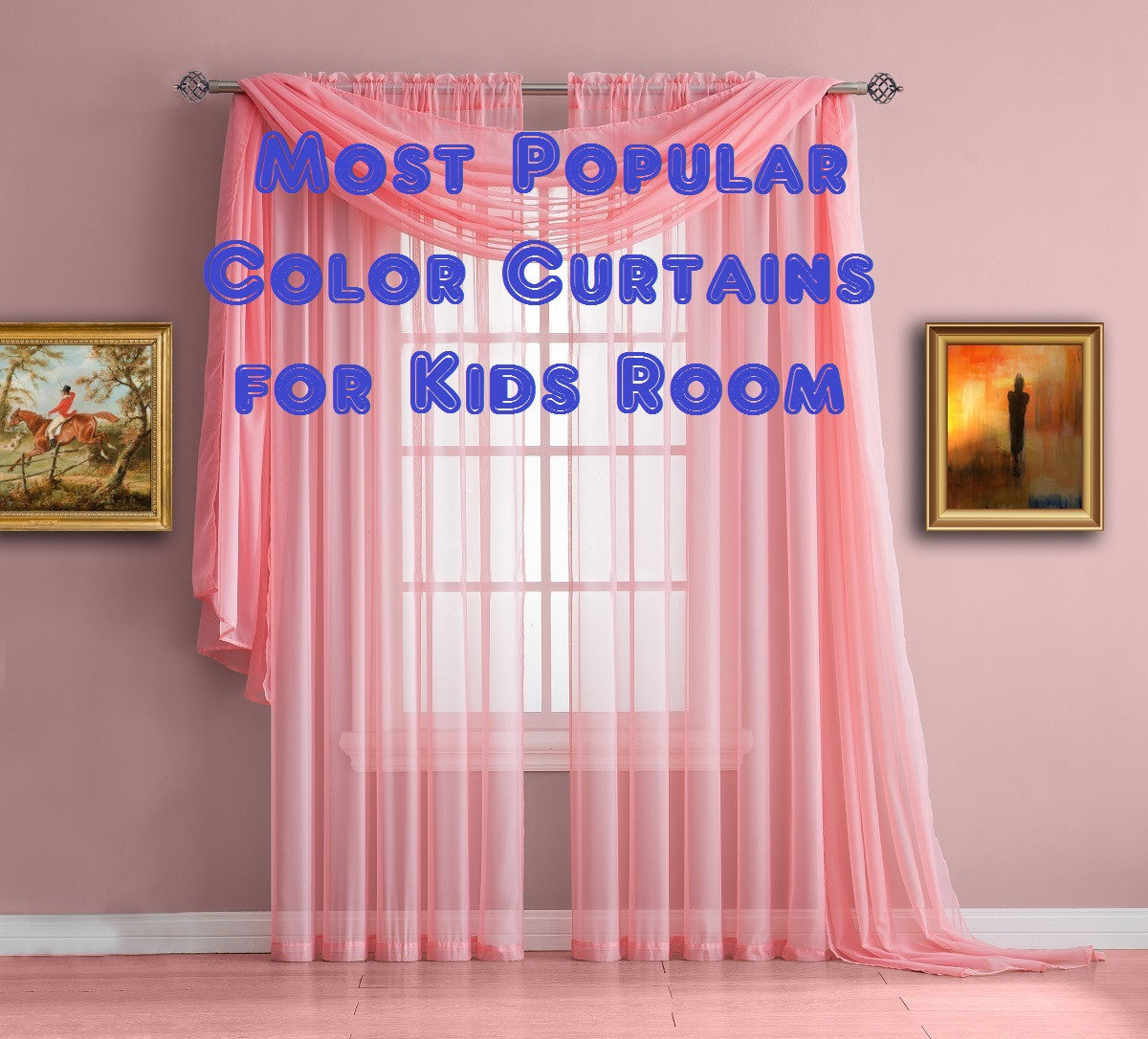 Finding the right color curtains for your kids room or nursery can be a hassle. There are a lot of colors to choose from. Some colors are are considered boys curtains, some girls curtains, some curtains are gender-neutral. Some curtains are better for older kids, while others are perfect as young children curtains. To help with window treatment color questions we created this quick guide featuring our most popular kids curtains colors.
Warm Home Designs Pair of Pink Rose Sheer Curtains or Extra Long Window Scarf
While some might consider decorating girls bedroom in pink to be old fashion, our rose pink color is still the most popular choice for girls bedroom curtains. This particular color is not in your face "hot pink" but more elegant and light rose pink - perfect for both girl nursery and as girls curtains for older children including teenagers.
The opposite of girls curtains are obviously boys curtains. There are subtle differences, however. Our baby blue color is extremely popular as boys nursery curtains and as boys curtains in general for ages up to around 12 years old. Interestingly though, while pink rose curtains keep their appeal to teenagers girls, teenage boys do not share the same affinity for baby blue, preferring darker, more "masculine" colors. On the other hand, baby blue curtains is starting to become a popular choice for girls nurseries, as it becomes trendier to decorate girls rooms in colors that ones were considered to be reserved for boys only.
Speaking of colors that's breaking gender barriers, these navy blue sheer curtains are popular as both boy and girls curtains, especially for older children in teenage years. We sell these navy blue color as rod curtains (shown above) or as more expensive grommet top curtains version. Both types of curtains are some of the hottest sellers on our site and are very popular as both kids bedroom curtains or as bedroom curtains in general.
Another great option for moms and dads who want to decorate their kids room in bright colors but want to keep their selection as gender neutral as possible are these bright, yellow curtains. These curtains for kids room are popular among parents of both boys and girls, especially for newborns and toddlers who love these light and airy sheer kids drapes.



Many young children of opposite gender either share the same bedroom or have a dedicated playroom where they both play. Lots of parents ask us what color playroom curtains should we suggest? We always tell them that if they have both girl and a boy in the house, why not decorate kids playroom or bedroom in a combination of pink and blue. That's why we suggest to them our light lilac color. Lilac (just as purple in general) come from combination of blue and pink color notes so it's a great choice for a room that houses both genders. This color is bright, enjoyable to looks and will make both of your kids very happy.
Want to hear more regarding our sales, new blog posts or other developments at WarmHomeDesigns.com? Sign up for our newsletter bellow. We will never spam you or give out your email to 3-rd parties:
Leave a comment
Comments will be approved before showing up.